Metaprints Sponsors NFT LA Event with Steve Aoki
This past week the city of Los Angeles hosted NFT LA 2022 at the iconic Convention Center in its hub downtown. There, crypto's masses gathered for an inaugural foray into all things NFT through an epic IRL conference fused with immersive Metaverse integrations, and not to mention LA's robust nightlife scene. Exploring the city of angels and journey into its new role as a global conduit for the adoption of Web3 in sports, music, art, and entertainment alongside the likes of Waka Flocka Flame, Paul Okenfold, Charlie Sheen, Pink Floyd, Mark Cuban and more!
The highlight of this eventful week was a Metaprints-sponsored NFT LA VIP experience at an exclusive Steve Aoki concert at the Wisdome, Los Angeles' first and largest immersive art and music dome park. In attendance were some of the most influential people the city has to offer including top music executives, prolific film producers, Pink Floyd band members, some of crypto's saviest business moguls, and yes — you guessed it — Steve Aoki himself!
The objective for this VIP experience was to educate brands on the potential of the metaverse, and show off some of the incredible work that's already been accomplished with our genesis partners. The Metaprints VIP area (shared with Steve Aoki) featured a themed Mojito bar surrounded by TVs and multiple members of the Metaprints team placed strategically at the center of all the action. Members of Animoca Brands were also in attendance during the evening, as lead investors in the project. Early on Metaprints COO Rob Tran and CMO Chas Stanton were joined by iconic Animoca Chairman, Yat Siu!
As part of the Bondly group, Metaprints is a key component in the Animoca Brands metaverse portfolio, along with our sister company The Sandbox and other projects connected through the Animoca investment portfolio, such as Decentraland.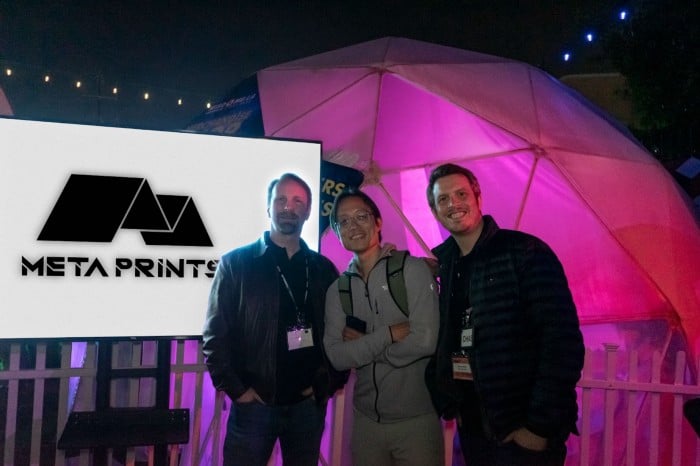 The Metaprints VIP reception saw influential attendees gathered from all over to watch our videos and hear more about bridging branded assets into multiple metaverses. With the event over, the real work has begun, following up on a number of amazing opportunities to help major brands and projects on their journey into the metaverse.
About Metaprints
Metaprints is the gateway for brands to accelerate their presence in numerous metaverse ecosystems in one simple step. Backed by Animoca Brands, Metaprints has a unique network of the biggest metaverse projects in the space that allows them to facilitate the creation and curation of branded assets across multiple platforms through one partnership.
Metaprint NFTs are branded asset 'blueprints' sold to buyers to facilitate the creation of the 3D assets required in the metaverse platforms by some of the best animation specialists. Creators and brands also receive a share of future revenue for assets created, ensuring everyone through the chain benefits from the model.
The Metaprints INO, featuring 'Genesis' metaprints for 10 well-known brands, will be taking place in December 2021. Follow the project community channels for more information.