Last week Forj announced the launch of a brand new project, TasteMakerz; a unique Web3 educational guild with immersive storytelling that encourages community-led learning.
Following that announcement we have fantastic news for our Forj community, we'll be hosting a membership sale on our Forj Shop starting on 2nd March 2023! You'll have the opportunity to get your hands on a genesis Season Pass membership (3 months of access), which will open the doors to a whole new kind of Web3 education, with a story-driven 'learn and earn' philosophy at its heart.
What does membership get you?
Membership to TasteMakerz grants you access to a world of Web3 alpha, insights, reports, webinars from industry leaders, and more; but that's not even the best bit because you'll be amongst a community of some of the most curious minds in Web3, contributing to the collective learning of the guild through the completion of a series of 'quests' that will reap some incredible rewards…
If you think you have what it really takes to be a TasteMaker, then read on!
Whitelisting
The TasteMakerz guild kitchen staff have sent personalized invites to some of the most prestigious and respected Web3 communities from across the Animoca ecosystem, and beyond, in appreciation of the roots from which TasteMakerz was founded.
Our Forj communities (Forj, Metaprints, and PolkaPets) however won't need whitelisting and are being offered TOP LEVEL access for obtaining their first Season Pass membership to TasteMakerz. Remember, Season Passes are limited and this is your ONLY chance to get a membership for Season 1.
Sale Details
Sale Begins: 2nd March 2023
Price for Season Pass: 0.09ETH
Following our snapshot, taking place Monday 27th February at 5pm UTC, the following Forj ecosystem groups will be identified and whitelisted:
Day 1 of the sale (2nd March):
Original BCCG Holders (1 'Hero', 'Villain', or Launchpad BCCG required)
Farzin BCCG Holders (This group will have double allocation for the sale)
Day 2 of the sale (3rd March):

Metaprints Genesis NFT Holders

Day 3 of the sale (4th March):

Full set of 24 OG PolkaPets Holders
The following days there will be a new group of NFT holders allowed access to the sale, as per the table below. These groups have been identified as valuable partners of Forj within the Animoca Brands ecosystem.
Public sale will then begin on 9th March.
Tier Breakdown
Below is a breakdown of when the sales will be available to the various communities. They will be "live" at 3pm UTC on the date displayed and if you don't qualify on days 1-7 then keep an eye on the 'public sale' on the final day for your chance to nab your membership, if any remain.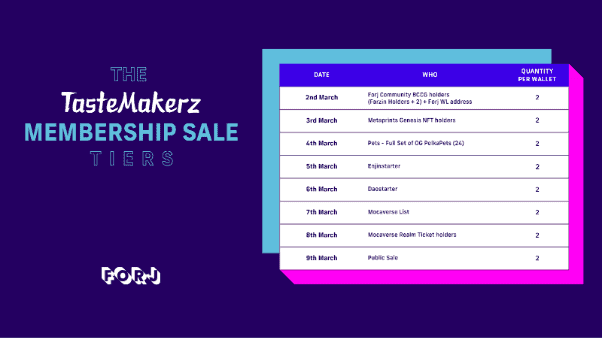 About Forj
A subsidiary of Animoca Brands, Forj delivers leading Web3 products and technologies that create unique fan experiences for creators. A truly end-to-end solution, Forj is the next frontier of fan engagement through its use of NFTs, metaverse protocols, and blockchain tech to bring fans closer to their favorite creator brands in Music, Entertainment, Gaming and beyond. With major partnerships including influencer Logan Paul, Grammy-nominated musician Lewis Capaldi, and leading creator platform Spring, Forj has an enviable track-record of success in the sector.
Forj-owned brands include metaverse infrastructure project Metaprints and leading GameFi project PolkaPets.