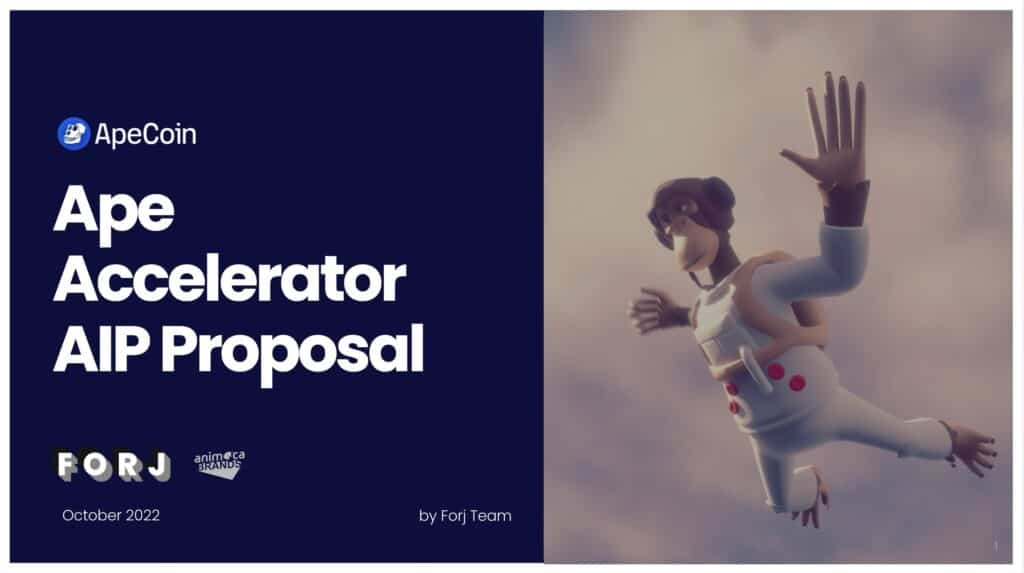 Forj have proposed an Ape Improvement Proposal (AIP) for the creation of a dedicated Bored Ape project incubator and launchpad driven by $APE token to the ApeCoin DAO. The ApeCoin community can now vote on the proposal until 1am 18th May UTC.
The AIP-209 proposal by Forj, titled "Ape Accelerator Powered By ApeCoin", will help the ApeCoin and BAYC ecosystem by incubating and facilitating projects that contribute to, and utilise, ApeCoin and BAYC IP ecosystem growth.
Projects looking to launch through the Ape Accelerator will require $APE token to submit a proposal, and holders of $APE and BAYC Ecosystem NFTs will be able to access the launchpad to invest in such projects.
At Forj, we have been speaking to builders in the Yuga Labs ecosystem and many of them are experiencing issues that we firmly believe can be solved with a new $APE powered launchpad.
From the research we've conducted, the challenges can be broken down into three areas.
A lack of Web2 audience
A lack of ongoing utility in projects
A lower frequency of interaction
Ape Accelerator greatly contributes to BAYC IP ecosystem growth by building a launchpad for new projects dedicated to driving value for BAYC stakeholders, providing incubation and advisory services to cover Strategic Partnerships, Storytelling, Tokenomics design, Capital Support and Distribution – whilst forming the strategic incubation vertical to maximize cohort synergy for Yuga's ecosystem growth.
It is the belief within Forj that the Ape launchpad will not only be a boon for builders, but that it will also give ApeCoin DAO Contributors the chance to get in early on promising Ape themed projects.
——————————————————————————————————-
You can vote for the proposal now until 1am UTC on 18th May 2023.