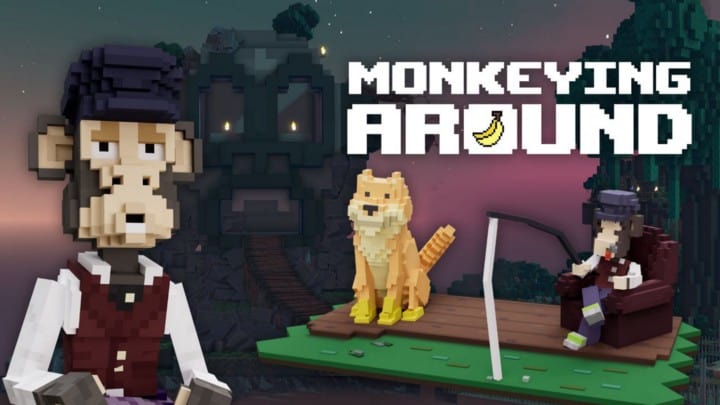 'Monkeying Around' is now LIVE in The Sandbox!
You can access the game here: tiny.one/Monkeying-Around
'Monkeying Around' will be open for three weeks and the story kicks off with your character at the coolest party — the Metaverse Club. To gain entry, you must run, jump, kick and fight your way through quests to earn points and get your ticket!
This experience features Bored Ape characters owned by Metaprints and Forj, while combining the trendiest in gaming, NFTs and culture in a fun and exciting way. Bored Ape Yacht Club NFT holders, as well as holders of NFTs from several other popular projects, will be able to use their NFTs as avatars in the game!
Prize Structure
'Monkeying Around' is free for anyone to play during the three weeks that it will be open during Alpha Season 3! In order to receive enhanced rewards from The Sandbox, or to be able to qualify for the $30,000 USD we have in token rewards for the top players, you will need to complete KYC with The Sandbox!
Players will earn points for completing quests, which include riding alligators and fighting mutants among other thrilling missions. There will be rewards for the Top 10 players on our leaderboard, updated at the end of the Sandbox Alpha S3.
The token rewards that players will be competing for are broken down as follows: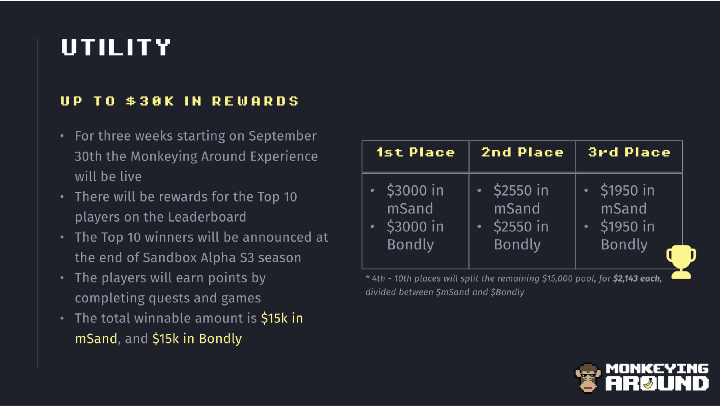 1st place will receive $3,000 in $mSAND and $3,000 in $BONDLY, for a total of $6,000!
2nd place will receive $2,550 in $mSAND and $2,550 in $BONDLY for a total of $5,100!
3rd place will receive $1,950 in $mSAND and $1,950 in $BONDLY for a total of $3,900!
4th-10th places will split the remaining $15,000 pool, for $2,143 each, divided between $mSAND and $BONDLY!
How to Play and Compete
In order to access 'Monkeying Around', simply follow these steps:
Open up a browser and type in the URL: Sandbox.Game
Click on "Download Alpha" to download the client. You can select Windows or MacOS.
While the client is downloading, create an account.
Click on "Sign In".
From here, you can choose which wallet you want to connect with.
Once you are signed in and your account is made, you will now click "Play on The Main Page".
You can click "Play" from here, or alternatively, you can also download the client from here if you haven't already.
A prompt will come up where you can launch 'Monkeying Around'!
As a reminder: You need to KYC with The Sandbox in order to qualify for our token rewards, as well as the enhanced rewards that the game is offering! This is a very simple process — when logged into The Sandbox, all you need to do is:
Go to "Profile" and click "Settings"
Click "Account Verification"
You will need to take a photo of your face and upload a valid ID, such as a Passport or Driver's License
You're all set! Now you can compete and complete the quests to see if you have what it takes to top the 'Monkeying Around' leaderboard!
'Monkeying Around' Giveaway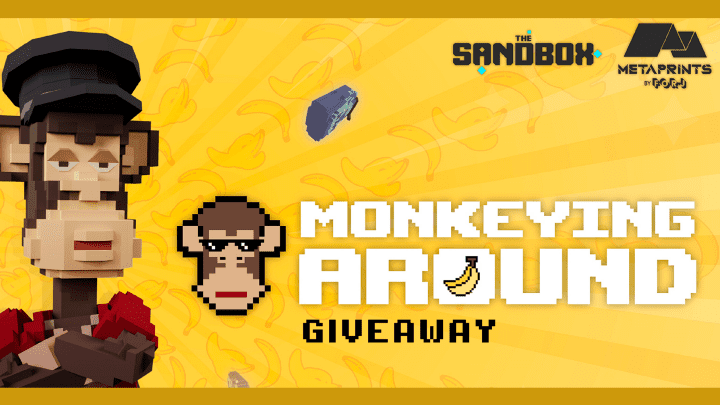 Leading up to the launch of 'Monkeying Around', we are having a huge giveaway, with $1,000 USD for first place and 1/200 'Monkeying Around' wearable NFT helmets for The Sandbox!
Everyone can enter the giveaway for our helmets! Just fill out this Gleam competition to qualify: tiny.one/MonkeyingAround
However, in order to qualify for first place, you will need to play 'Monkeying Around' within 1 week of launch (cut off is Oct. 7th at 11:59PM UTC) and:
1. Take a screenshot of yourself playing and tag @Metaprints for 1 entry
and/or
2. A screen recording for 3 entries
It's that easy! Good luck everyone and we look forward to Monkeying Around with you!
About Metaprints
Metaprints is the gateway for crypto projects to accelerate their presence in numerous metaverse ecosystems in one simple step. Backed by Animoca Brands, Metaprints has a unique network of the biggest metaverse projects in the space that allows them to facilitate the creation and curation of branded assets across multiple platforms through one partnership.
Website | Twitter | Telegram | Discord
About Forj
A subsidiary of Animoca Brands, Forj delivers leading Web3 products and technologies that create unique fan experiences for creators. A truly end-to-end solution, Forj is the next frontier of fan engagement through its use of NFTs, metaverse protocols, and blockchain tech to bring fans closer to their favorite creator brands in Music, Entertainment, Gaming and beyond.
With major partnerships including influencer Logan Paul, Grammy-nominated musician Lewis Capaldi, and leading creator platform Spring, Forj has an enviable track-record of success in the sector.
Forj-owned brands include metaverse infrastructure project Metaprints and leading GameFi project PolkaPets.
Website | Twitter | Telegram | Medium| Discord