NFTSTAR Leads its' NFT Superstar Squad to Arrive at The Sandbox Ahead of the World Football Championships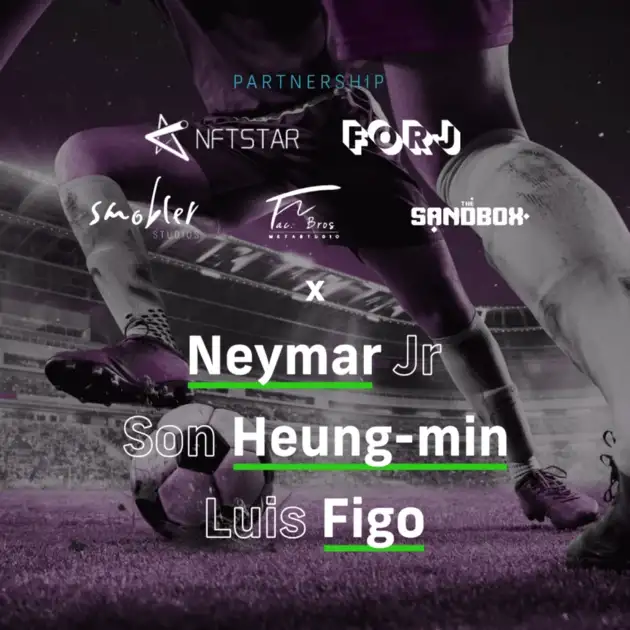 If you missed the big news this week, Brazilian football superstar,
Neymar Jr., Asian football superstar, Son Heung-Min and Portuguese football legend, Luis Figo have all signed with
NFTSTAR to enter the metaverse in a Global Sports Village in
Fac Bros and the team at Forj are included in the partnership and aim to help NFTSTAR "build an integrated global sports metaverse platform for billions of sports fans who also have an affinity for gaming."
"NFTSTAR intends to engage the global community with regular meet and greets, AMAs, exclusive NFT drops and a virtual sports arena, through a partnership with renowned Web3 brand experience provider Forj, another subsidiary of Animoca Brands."
See the full announcement here!
Cool Cats x OneFootball x Animoca Brands Allowlist Winners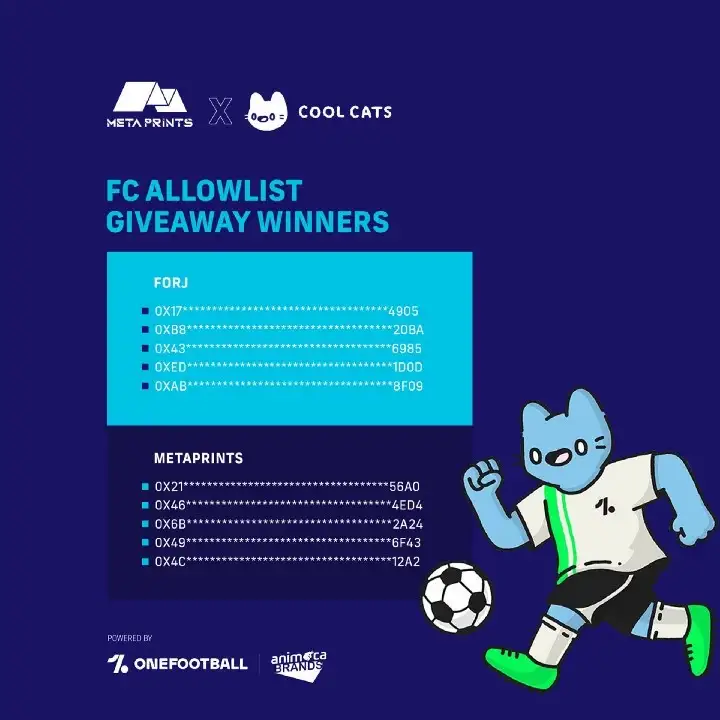 Congratulations to the winners of our @CoolCatsFC allowlist giveaway — check to see if you were one of the lucky ones, above.
A big thank you to
Be sure to follow CoolCatsFC throughout the World Cup 2022.
Whitelist spots are for the Partner Project tier, which is going on right now, Nov. 18th between 5am-5pm EST!
More info on the project, full litepaper & mint dates: https://ccfc.coolcatsnft.com/#about
Cryptosaurs: Welcome to The Next Evolution
Throughout time, dinosaurs evolved, just as we animals and humans do today.
Keep watching Cryptosaurs channels as the story continues to unfold and welcome to the next evolution…
About Forj
A subsidiary of Animoca Brands, Forj delivers leading Web3 products and technologies that create unique fan experiences for creators. A truly end-to-end solution, Forj is the next frontier of fan engagement through its use of NFTs, metaverse protocols, and blockchain tech to bring fans closer to their favorite creator brands in Music, Entertainment, Gaming and beyond. With major partnerships including influencer Logan Paul, Grammy-nominated musician Lewis Capaldi, and leading creator platform Spring, Forj has an enviable track-record of success in the sector.
Forj-owned brands include metaverse infrastructure project Metaprints and leading GameFi project PolkaPets.
Website | Twitter | Telegram | Medium| Discord
About PolkaPet World
PolkaPet World is an NFT project created by Bondly in partnership with some of the biggest names in the Polkadot ecosystem. Each PolkaPet is embodied as an artistic creature that represents a specific Polkadot project.
All PolkaPets hold unique project-specific utility to reward community members for holding their PolkaPet NFTs in their wallets. The utility can be a discount on fees, an airdrop of tokens to PolkaPet cardholders, or various other utilities.
The $PETS token is the utility token used to engage with PolkaPet World products and services, as well as allowing governance rights and access to exclusive sales.
Polkapet.world | Twitter | Telegram | Discord
About Metaprints
Metaprints is the gateway for brands to accelerate their presence in numerous metaverse ecosystems in one simple step. Backed by Animoca Brands, Metaprints has a unique network of the biggest metaverse projects in the space that allows them to facilitate the creation and curation of branded assets across multiple platforms through one partnership.
Metaprint NFTs are branded asset 'blueprints' sold to buyers to facilitate the creation of the 3D assets required in the metaverse platforms by some of the best animation specialists. Creators and brands also receive a share of future revenue for assets created, ensuring everyone through the chain benefits from the model.
The Metaprints INO, featuring 'Genesis' metaprints for 10 well-known brands, will be taking place in December 2021. Follow the project community channels for more information.