The PolkaPet World is Expanding…
Check out our Twitter and Discord this Monday for an exciting announcement for our PolkaPet holders! Our VIP Members can get access to the to news right now on Discord in the VIP News channel: check it out here!
Cryptosaurs "Toyosaurs" Challenge
Following on from the recent success of #Halloweenosaurs and #PowerToThePurple, we have great pleasure in introducing you to the Toyosaurs challenge!
Our Quantum Storytelling Chief, Mike Bonifer, has all the details, so be sure to listen because you could win $100 worth of ETH or exclusive whitelist status!
Forj's Comprehensive "The State of Web3" Thread
Although there has been quite a stir in the crypto and NFT communities as of late, we can assure you that beneath the scenes, many namebrand organizations are experimenting and entering Web3!
In our comprehensive thread, we go over some of the biggest companies in Web2 that are beginning to experiment and migrate over to blockchain-based solutions!
Polygon Pets: Chapter 1 & 2 Recap Video
Before we introduce the next instalment of the Polygon Pets saga, settle back and enjoy this recap of Chapter 1 and 2!
What next for Paarja, Baiyun and Kaali? All will be revealed very soon…
#PolygonPets #Paarja #Baiyun #Kaali #Chapter1 #Chapter2 #comingsoon #Chapter3
Binance Live's Ultiverse Show ft. Forj CEO, Harry Liu: "The State of Web3 Adoption"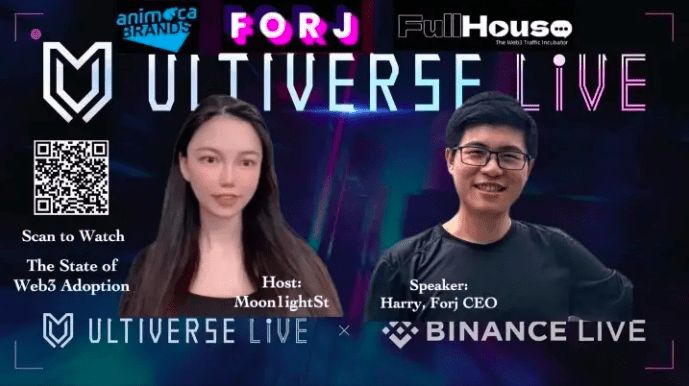 Yesterday, December 1st, Forj CEO, Harry Liu, co-hosted the Ultiverse show on the Binance Live channel!
This week was a whopping success, with over 15,000 KYC'd viewers as Harry went over a in-depth report titled "The State of Web3 Adoption".
If you didn't get a chance to tune in or view the show, you can do so by simply clicking here.
Harry and Forj will be a monthly guest on the show moving forward, appearing on the 30th of each month at 2AM UTC/10PM EST/7PM PST, so be sure to tune next month for more great insights and alpha!
Forj Flash News
In this week's #ForjFlash news update:
Uniswap launch NFT trading on their platform with 15% off gas fees
Brazil introduces new rules for BTC as a digital representation of value
Telegram announces plans to build non-custodial wallets & decentralized exchanges
About Forj
A subsidiary of Animoca Brands, Forj delivers leading Web3 products and technologies that create unique fan experiences for creators. A truly end-to-end solution, Forj is the next frontier of fan engagement through its use of NFTs, metaverse protocols, and blockchain tech to bring fans closer to their favorite creator brands in Music, Entertainment, Gaming and beyond. With major partnerships including influencer Logan Paul, Grammy-nominated musician Lewis Capaldi, and leading creator platform Spring, Forj has an enviable track-record of success in the sector.
Forj-owned brands include metaverse infrastructure project Metaprints and leading GameFi project PolkaPets.
Website | Twitter | Telegram | Medium| Discord
About PolkaPet World
PolkaPet World is an NFT project created by Bondly in partnership with some of the biggest names in the Polkadot ecosystem. Each PolkaPet is embodied as an artistic creature that represents a specific Polkadot project.
All PolkaPets hold unique project-specific utility to reward community members for holding their PolkaPet NFTs in their wallets. The utility can be a discount on fees, an airdrop of tokens to PolkaPet cardholders, or various other utilities.
The $PETS token is the utility token used to engage with PolkaPet World products and services, as well as allowing governance rights and access to exclusive sales.
Polkapet.world | Twitter | Telegram | Discord
About Metaprints
Metaprints is the gateway for brands to accelerate their presence in numerous metaverse ecosystems in one simple step. Backed by Animoca Brands, Metaprints has a unique network of the biggest metaverse projects in the space that allows them to facilitate the creation and curation of branded assets across multiple platforms through one partnership.
Metaprint NFTs are branded asset 'blueprints' sold to buyers to facilitate the creation of the 3D assets required in the metaverse platforms by some of the best animation specialists. Creators and brands also receive a share of future revenue for assets created, ensuring everyone through the chain benefits from the model.
The Metaprints INO, featuring 'Genesis' metaprints for 10 well-known brands, will be taking place in December 2021. Follow the project community channels for more information.