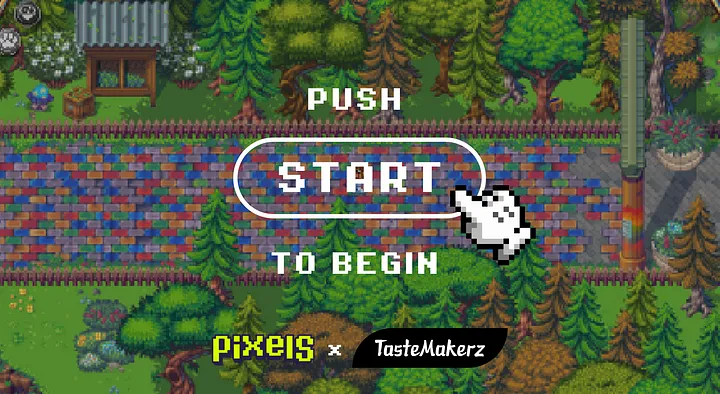 Fancy winning $10,000 worth of $BONDLY?
Of course you do!
The real question is; do you think you have what it takes to make some delicious burgers for a selection of our favourite Bored Apes?
If you still do, then read on, because this challenge is absolutely for YOU!
TasteMakerz, in association with Pixels online have come up with the Burgerz Challenge — an immersive adventure set in the Pixels World with a WHOPPING $10,000 in cash prizes, featuring original Bored Ape Yacht Club characters, alongside TasteMakerz characters Wabi and E!
See the announcement below:
https://twitter.com/TasteMakerz_XYZ/status/1648439343588184065?s=20
What's up for grabs?
The breakdown is as follows…
We've $10,000 worth of $BONDLY to be won in total while the game is live, $7,000 for in-game scores, and a further $3,000 for related prize draws!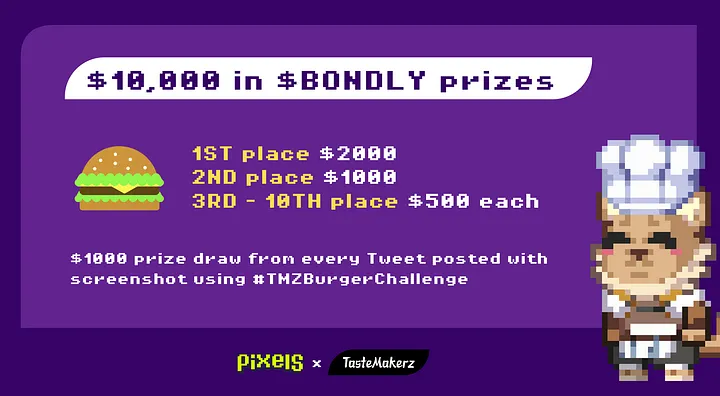 How to take part
It really is as easy as 1,2,3…
Firstly, be sure to log in here to get started! If this link doesn't work then copy and paste the following → pixels.xyz/tastemakerz.
You can play as a guest (for funsies!) OR connect your wallet. Remember: you only get on the leaderboard by tracking your progress!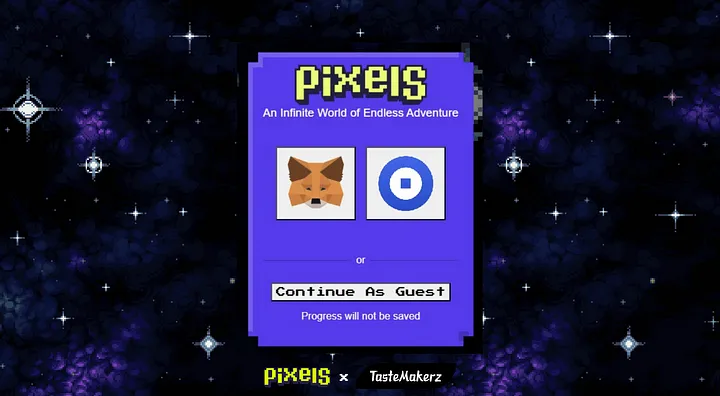 Next, get to the Bored Burgers restaurant to begin the #TasteMakerz challenge with Wabi and E!
The aim from here is to gain the highest position on the leaderboard by completing as many tasks as possible quickly, and grabbing badges along the way!
Easy. Right?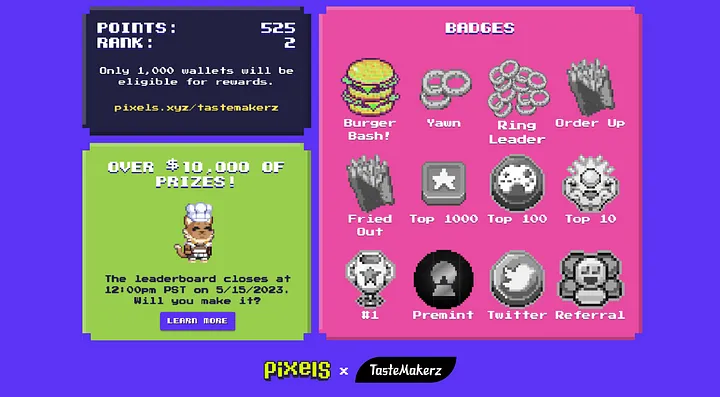 Once you've done that, make sure that you share your score for a chance to win, using the hashtag #TMZBurgerChallenge on Twitter.
We've got $1,000 of $BONDLY to give away ($200 x 5) to five randomly-selected players who share their score once they've completed the challenge! *We did say there would be more prizes up for grabs… 😉*
REMEMBER! Don't forget to use #TMZBurgerChallenge + tag @TasteMakerz and @Pixels_Online on the Tweet. Simply copy and paste our two examples in bold here to make sure you get it 100% CORRECT!
BONUS! If you're part of the TasteMakerz Guild there's even more reason to take part and WIN!
We've got an additional $1500 in $BONDLY to hand out between EVERY Guild member who uses their new Twitter thread 'burger-making' skills to cover the TasteMakerz x Pixels partnership, the game concept, or their own experience playing it.
Just make sure to send it to our team on Discord.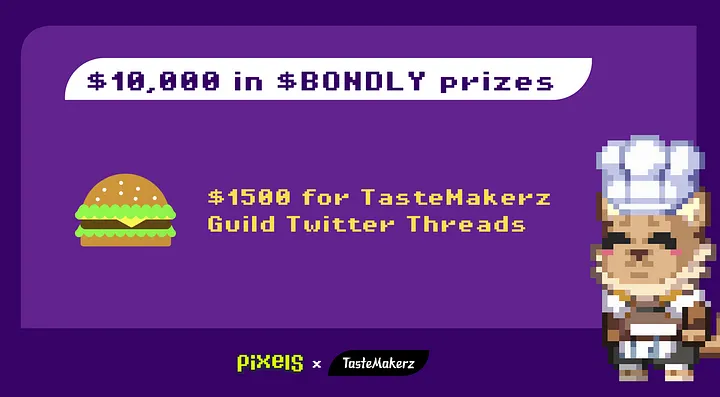 Good luck and happy cooking!
About TasteMakerz
Incubated by Forj, an Animoca Brands subsidiary, TasteMakerz is a brand new and unique Web3 educational guild built with 'learn and earn' immersive storytelling, and led by its community.
Offering a subscription-based learning hub, members have access to cutting edge industry reports, web3 learning modules, interviews with industry leaders, and plenty more — all while participating in quests to rise up the ranks to become a TasteMaker!