Web3 tech company Forj, owner of PolkaPet World, and Web3 mobile games platform VIKER, both part of the Animoca Brands ecosystem, have announced the launch of a unique Web3 mobile game tournament which will be a Solitaire-based competition, using the PolkaPet World digital collectibles franchise.
The second collaboration between Forj and VIKER will give PolkaPet World digital collectible holders the opportunity to play alongside each other to win a share of $5,000 of $PETS tokens.
The tournament will begin on the 24th April 2023 and last 7 days, with lots of opportunities to win prizes for top scores. The Solitaire game will also dynamically adapt to reflect ownership of a PolkaPet NFT, in a rare example of true mobile NFT integration for web3 gaming.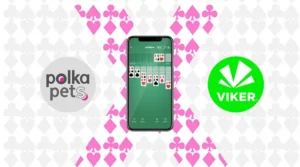 PolkaPet holders will also continue to earn double Bitcoin rewards across VIKER's portfolio of casual mobile games — with 6 new compatible game titles: Bitcoin Chess, Sudoku, Balls King, Amazeballs, Wheel of Crypto and Missing Letters. For the first time, holders are able to directly integrate with the platform instead of requiring a VPPP (VIKER PolkaPet Pass).
Speaking about the partnership, PolkaPet World team lead Harry Liu said: "This is a big day for our PolkaPet community, who now have the opportunity to see the PolkaPet IP extend beyond the confines of web3 into more conventional mobile gaming."
Dan Beasley co-founder of VIKER added, "Our goal is to create a unique experience where we can seamlessly collaborate with other projects and bring new users into the web3 ecosystem and we're delighted to be debuting this with PolkaPets".
Animoca CEO Robby Yung said of the partnership: "This partnership demonstrates not just the collaborative spirit of our Animoca Brands portfolio businesses but the evolution of web3 gaming, where we see web3 IP being implemented in these new and community-focused ways."
All holders of an original PolkaPet, or special edition 'Fenix' pet, are eligible to begin playing on the VIKER Games platform from 24th April 2023, with the tournament accessible via the Viker Solitaire game available on the App Store and Google Play.
About Viker Games
VIKER is dedicated to building the world's biggest community of blockchain-based gaming using globally recognised IP & their own beautifully crafted games.
The Founders & team have decades of experience having worked at some pretty big, intimidating, global superpowers of the gaming and entertainment industry. Together, they have established a crack team to be fast-moving, imaginative and efficient.
VIKER's connected and engaged company culture is made of the same ingredients that go into VIker games — with a focus on skill, creativity, satisfaction, progression and, most importantly: fun.
About Forj
A subsidiary of Animoca Brands, Forj delivers leading Web3 products and technologies that create unique fan experiences for creators. A truly end-to-end solution, Forj is the next frontier of fan engagement through its use of NFTs, metaverse protocols, and blockchain tech to bring fans closer to their favorite creator brands in Music, Entertainment, Gaming and beyond. With major partnerships including influencer Logan Paul, Grammy-nominated musician Lewis Capaldi, and leading creator platform Spring, Forj has an enviable track-record of success in the sector. Forj-owned brands include metaverse infrastructure project Metaprints and leading GameFi project PolkaPets.
About PolkaPets
PolkaPet World is an NFT project created by Forj in partnership with some of the biggest names in the Polkadot ecosystem. Each PolkaPet is embodied as an artistic creature that represents a specific Polkadot project.
All PolkaPets hold unique project-specific utility to reward community members for holding their PolkaPet NFTs in their wallets. The utility can be a discount on fees, an airdrop of tokens to PolkaPet cardholders, or various other utilities.
The $PETS token is the utility token used to engage with PolkaPet World products and services, as well as allowing governance rights and access to exclusive sales.